The Cultural Bridge partnership development is a great opportunity for two culturally different areas in Europe to engage in creative practice, exchange ideas and work together on future innovative collaborations.
This programme enabled Head4Arts and MOTTE eV. to cooperate in the field of participative arts and culture and was also a unique chance to empower as well as connect our communities through art.
To explore our partnership, a series of online meetings and the exchange of practitioners took place in Hamburg and Abertillery. Through our pilot project on Earth Hour Day 2023, we explored how a participatory art project can highlight local and global environmental challenges and empower community members to take positive and creative action to address them.
We worked together on an event for Earth Hour which involved live community performances in both countries that were connected via a live stream link. The Earth Hour event is organised by the WWF and is held annually in March, encouraging individuals, communities, and businesses to turn off non-essential electric lights, for one hour from 8:30pm to 9:30pm as a symbol of commitment to the planet and to highlight climate change.
As part of our research & development period, I visited Head4Arts in Wales in September 2023 to gain a deeper understanding of their work within the community of the valleys in Wales. We also exchanged project ideas that could be developed to benefit our organisations, artists, volunteers and our communities in both countries. This opportunity for a cultural exchange visit was part of the Cultural Bridge Tier 1 Project.
My first day in Wales started with a meeting at the Head4Arts office located at the Llanhillth Miner's Institute. It was fantastic to meet Bethan Lewis, the newly appointed Creative Director, after her exchange visit to Hamburg in June 2023. As part of the Head4Arts team, I also met Jordan Sallis, the newly appointed Community Outreach Officer, as well as the team of the Llanhilleth Miners Institute.
Throughout the first meeting we discussed a great variety of projects Head4Arts is involved in and how they positively benefit their community, as well as the challenges of implementing and creating them.
Head4Arts operates in the South East Wales Valleys region, covering the county boroughs of Blaenau Gwent, Caerphilly, Merthyr Tydfil and Torfaen. They are working across all art forms with people of all ages to provide high-quality, inspirational art experiences that introduce participants to new art forms and unlock their creative potential. The projects take place in community centres, housing estates, schools, hospitals, local parks, heritage sites, youth centres, theatres, libraries, and residential homes. After our first meeting, Bethan took me on a tour of the Llanhilleth Miners Institute.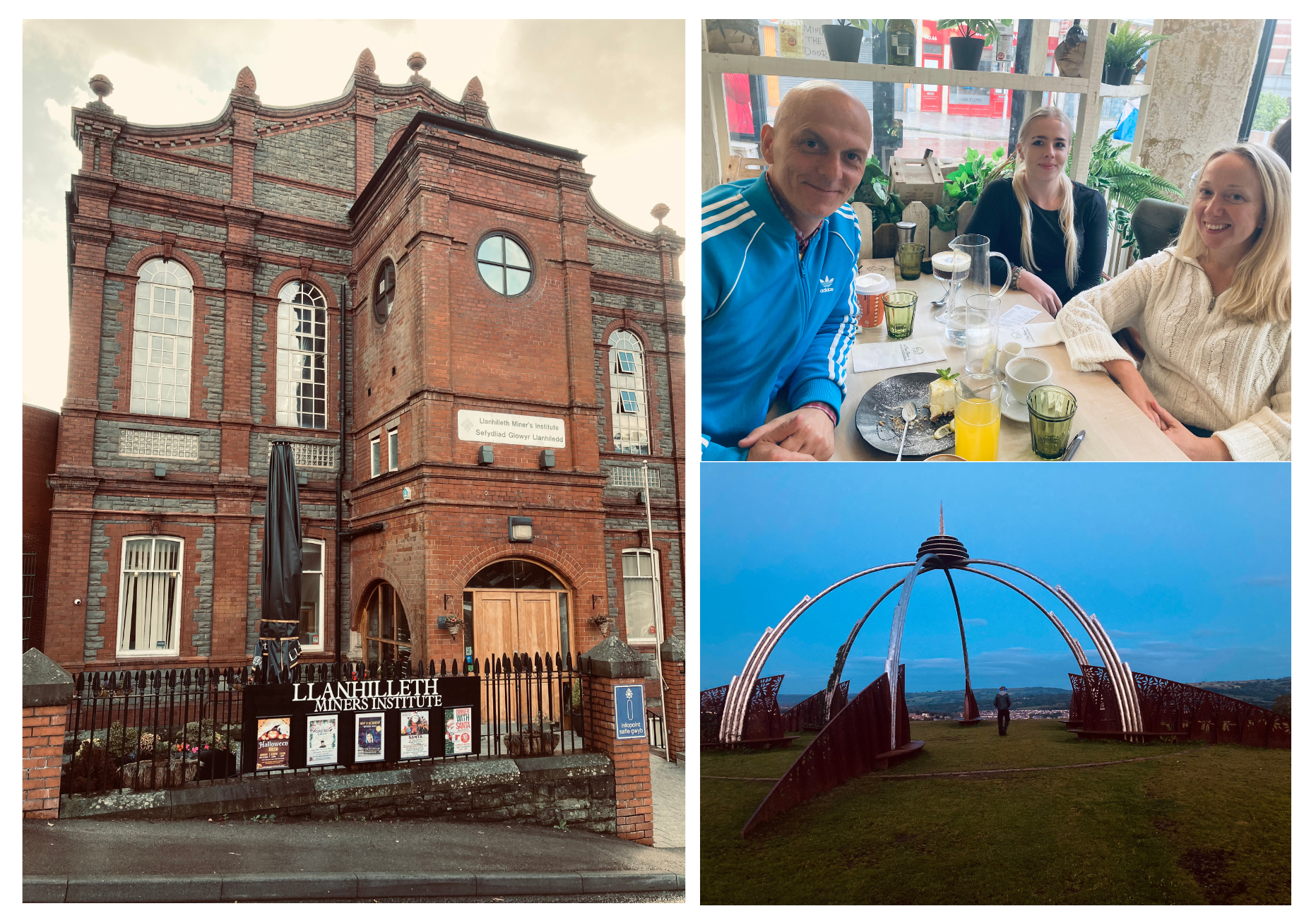 The building remains a lasting tribute to the miners and serves to be the vibrant heart of the community, seeking to meet the changing needs of the people it serves, and reflecting the vision of the miners who built it. The facilities include a theatre, offices, a coffee shop, meeting rooms and after-school provision rooms.
During and after the tour, it was great to meet the team of the Llanhilleth Miners Institute and talk about the challenges and new opportunities they encountered during the current cost-of-living crisis. This gave me a great insight into some of their work.
During the tour of the building, I became aware of the importance of the coal mining industry for the local community and the implications of the decline during the 80s. Throughout my various meetings and visits later on, it became apparent that the challenges of this transition have had a major economic and social impact on this region until today.
The next stop was the Old Library Community Coffee Shop in Caerphilly, which was a 30-minute drive from Llanhilleth where an open arts and crafts session took place for Welsh learners. The theme of this community project is based around Denim Day to highlight awareness of Sexual Assault Awareness Month. Organised by Head4Arts, local artist Rhian Anderson together with people from the local community as well as Bethan and myself created denim patches to be added to the #denimdwbl community banner.
After this session, another 30-minute drive took us to the Blaina Library for an arts and crafts activity for children with Rachel Balmorth. During this session, local volunteers highlighted the importance of creative activities and places of engagement for the well-being of communities. Another 30-minute drive took me back to my hotel and a long but exciting day was coming to an end.
On reflection, it was great to see how Head4Arts serves the different communities in the valleys with infrastructure constraints which affect many households on lower incomes as well as people relying on limited public transport.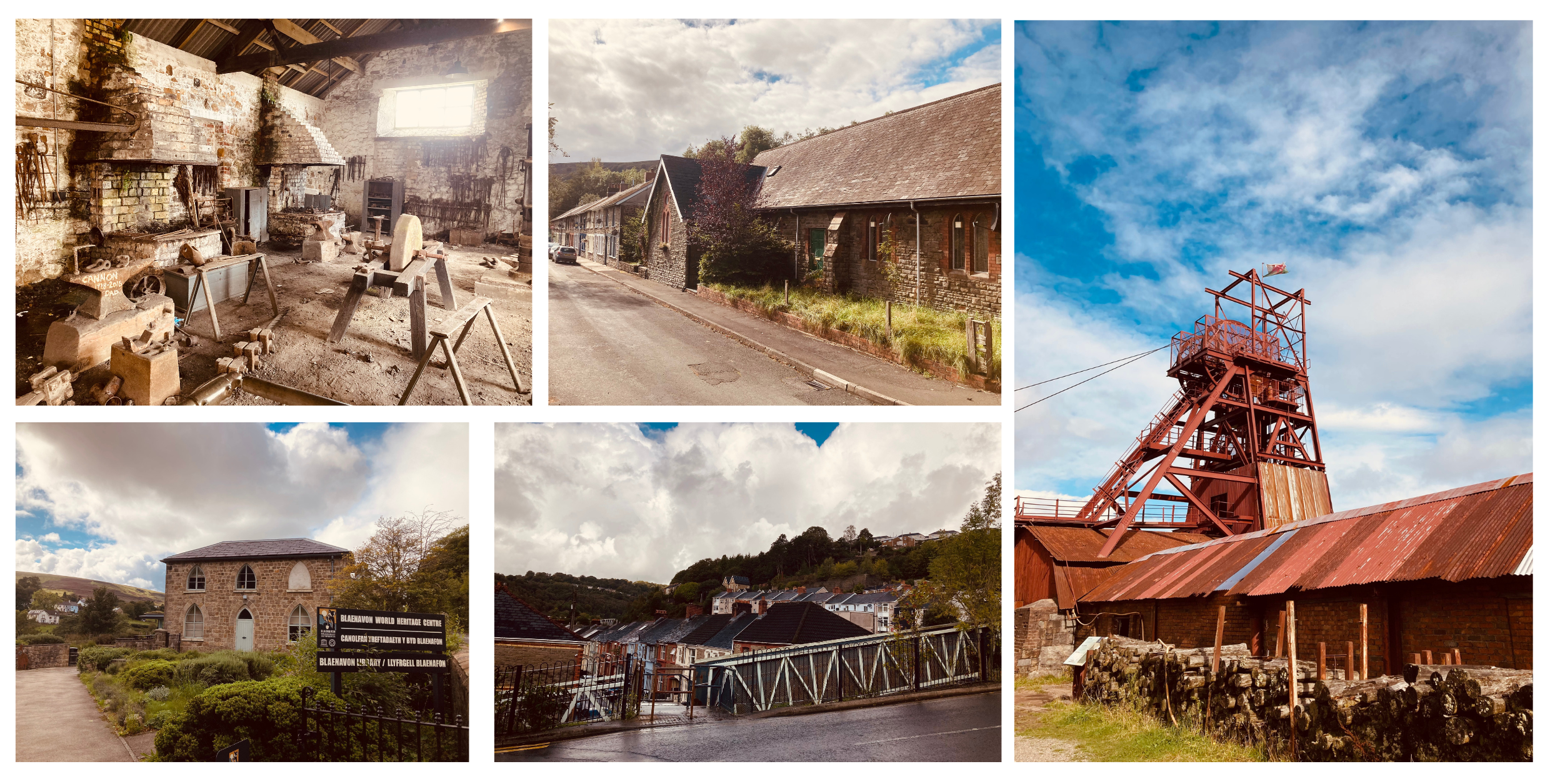 The second day started again, this time with Jordan picking me up from the hotel and a 30-minute drive to the Big Pit National Coal Museum. By going down the pit, seeing the exhibition and listening to the stories of former coal miners, I gained a unique insight into the history and importance of this industry as well as the struggles of the workforce and the very hard-working conditions.
The social and economic impacts of the industrial decline in Wales are still in place and with the current cost-of-living crisis, the rise in poverty, deterioration of living standards, increase in outward migration, the emergence of crime and diseases, decline in the provision of services, reduction in employment opportunities, will challenge any future regional policy-making and social cohesion. Wales has always struggled to receive adequate funding, but the loss of funding to Wales as a result of the UK Government's arrangements for replacement EU funding is severe. In the future, there are hard decisions to make for the Welsh Government and other institutions to support community centres, the arts, businesses, higher education and further education, and structural and investment funds to support vital investments in research and innovation, business competitiveness, skills, employability, zero-carbon, sustainable communities, infrastructure and connectivity, and support for vulnerable people.
After visiting the Big Pit National Coal Museum, we drove to the Blaenavon World Heritage Centre where Head4Arts organised part of their Earth Hour event. Later on, we visited Redhouse Cymru in Merthyr Tydfil and the Canaolfan Soar Welsh language art centre. Afterwards, we talked about potential ideas for future collaborations in Tier 2 and how we could also connect more organisations and artists with each other after the cultural bridge funding ended.
In the evening, we attended a nature awareness event and dancing in the dark activity course with Fiona Winter. It took place at the Parc Penallta in Ystrad Mynach and was also a chance for people to experience walking in complete darkness without fear. At the end of the session, many female course participants highlighted this issue and thanked Fiona for this liberating experience. In the past, Head4Arts offered similar free activities in cooperation with Fiona Winter as part of Torfaen's Great Big Green Week to the local community.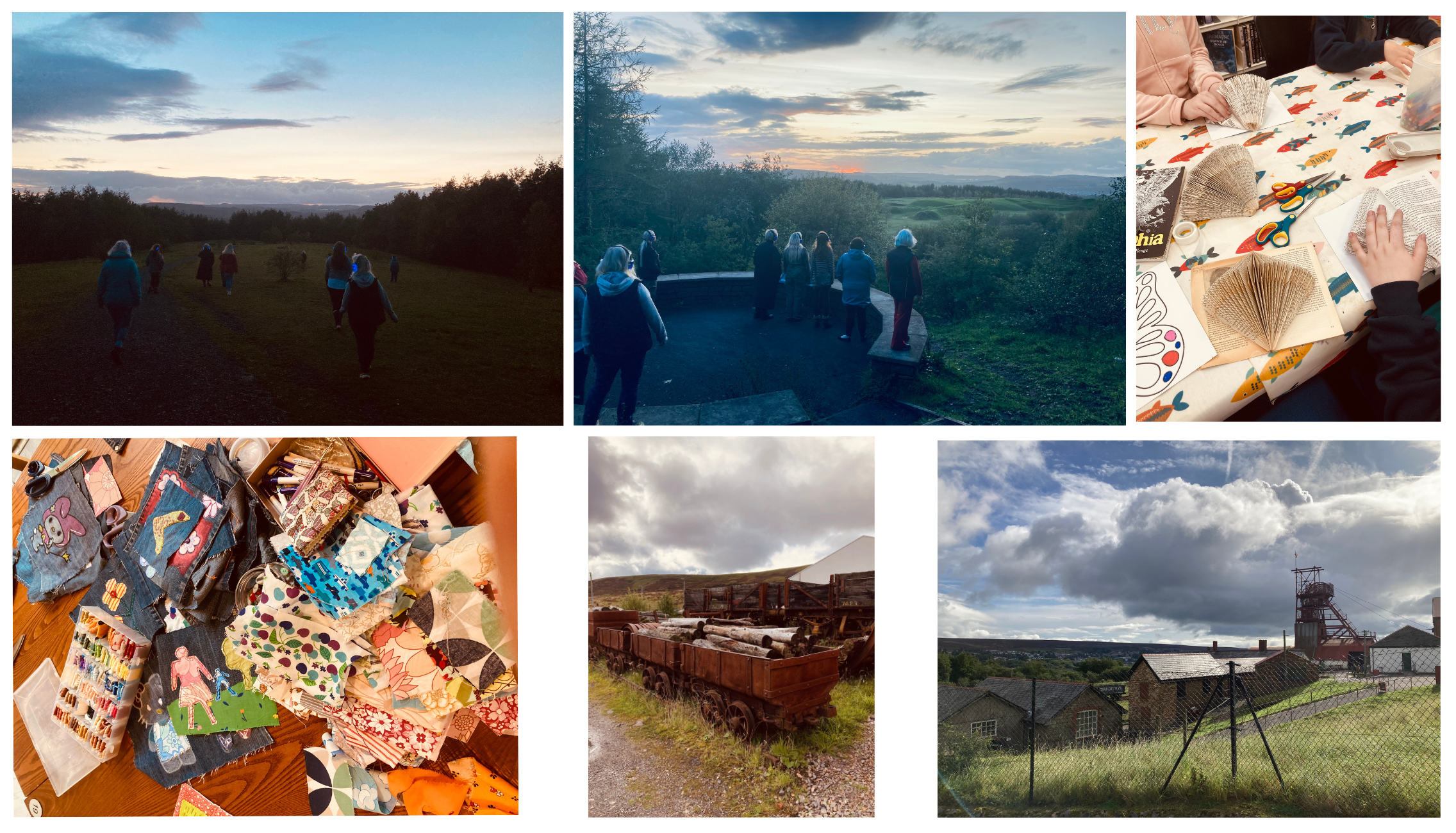 It was a great end to a fantastic exchange visit in Wales and I am looking forward to exchanging more ideas and working together on future innovative collaborations with Head4Arts and MOTTE eV.
We hope to continue our bilateral artistic partnership in the future and plan a low-key level artistic collaboration on Earth Hour Day 2024. We are also hoping to continue our partnership development in 2025 through an application to the Cultural Bridge tier two funding.
All images © Frank Lange, MOTTE eV. Stadtteil & Kulturzentrum