The Cultural Bridge partnership development is a great opportunity for two culturally different areas in Europe to engage in creative practice, exchange ideas and work together on an innovative pilot music and art event addressing our ecological footprint on earth hour day.
With a shared passion for using the arts and cultural activities as the catalyst to effect change in their communities, the partners will explore how participatory arts projects can highlight local and global challenges and empower community members to take positive action to address them.
Our pilot project brings people and places with fewer opportunities together to engage in a cultural exchange project in post-industrial places addressing our ecological footprint. Addressing our current challenges through a live stream gives our communities a voice and also a chance to engage with each other.
The pilot project gives young people with fewer opportunities and community based collectives the chance to develop their creativity, perform and interact globally. It is a great opportunity for people in post-industrial places to connect with another culture by addressing global challenges through art and participation.
The Research & Development period will offer an opportunity for us to gain a deeper understanding of each other's work, to learn from one another and to share good practice. To explore our partnership, a series of online meetings and the exchange of practitioners will take place in Hamburg and Abertillery. In the future, we hope that the relationship between Head4Arts and the MOTTE will continue and that larger scale projects could be developed that would have benefits for our organisations, the artists that we work with, our partners and our communities.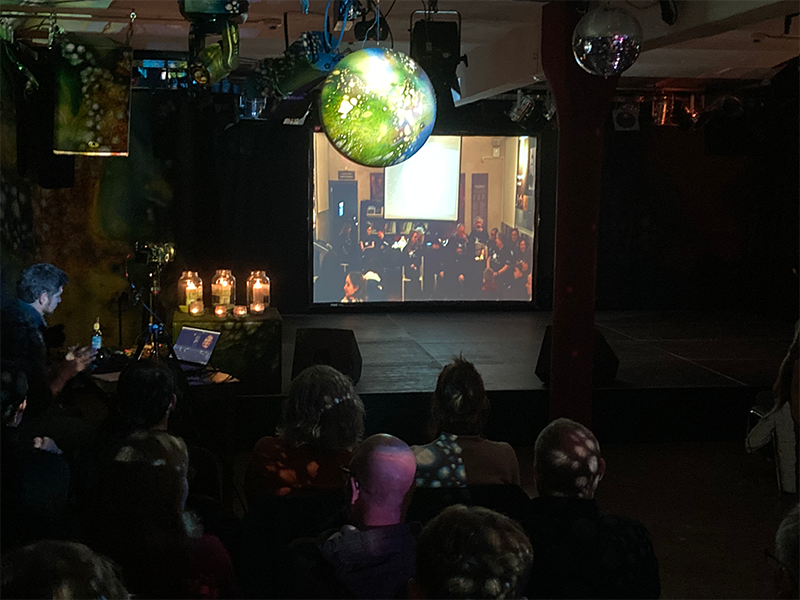 The Partnership Organisations
The MOTTE eV. Stadtteil & Kulturzentrum is a dynamic and creative art and community centre constantly adapting its activities and goals to reflect the changes in the community and society. Established in 1976 the MOTTE inspired various new models of co--operations and innovative projects that have led to a better quality of life and neighbourly engagement.
The organisation manages different departments and buildings providing a broad spectrum of activities, workshops and services. This includes a concert hall, recording studio, urban garden area, small chicken farm, exhibition facilities, meeting/activity rooms as well as a youth club and nursery. We offer courses and workshops for adults, children, young people, the elderly and many other projects.
The existing networks between cultural institutions and artists are constantly being developed to offer culturally relevant topics and new forms of cultural reception. With our partners, we developed different sustainability projects, including: the Sharetopia--shop, urban gardening and permaculture, as well as Live Concerts, Theatre Productions, intercultural memorial projects, career orientation, inclusion projects with hearing impaired young people and cultural exchange programs.
Follow MOTTE on Instagram, Facebook and at diemotte.de
Head4Arts is a community arts organisation working in the South--East Wales Valleys region. We deliver inspiring participatory arts programs that change the way people see themselves and the word around them. We work across all art forms with people of all ages to provide high quality, inspirational arts experiences that introduce participants to new art forms and unlock their creative potential.
Our work takes us to community centres, housing estates, schools, hospitals, parks, heritage sites, youth centres, theatres, libraries, residential homes – in fact any location where we can connect with people and encourage participation in the creative arts.
Follow Head4Arts on Facebook, Twitter, Instagram and at head4arts.org.uk

Activities
Both partners celebrated Earth Hour on Saturday 25th March 2023 with a programme of events that offered a creative exploration of climate change through art, live music and theatre performances. Each programme featured a live-streamed element from each other with short musical performances from a community folk band from Wales and theatre and live music performances from Hamburg. See below for the full programme of events.
Following this event, both organisations will come together for online and in-person exchange to share and develop their practice.
We both had a fantastic event and now you can also watch the recorded livestreams from both Hamburg and Wales.
Watch the live stream in Wales here: https://vimeo.com/event/3209771
Schedule: Pilot Project Our Earth Hour
Sat. 25.3.23 Our Earth Hour Hamburg MOTTE Rothestr. 48
(Live Concert + Theatre + Art)
In the context of the worldwide Earth Hour 2023, we want to raise awareness about climate change through art, theatre and live music performances in candlelight. We call out for more ambition in climate protection and a sustainable living and green planet.
Our program will include a live acoustic set by Nathan Johnston, theatre performances by the Galli Theater Hamburg, the Youth Theatre of the Motte, an exhibition of the Motte Trash Terminators, as well as a short musical live stream from our partner Head4Arts from Wales. We call out for more environmental protection and turn off our essential lights during earth hour so that people can finally see the light. Be there!!!
With the kind support of Cultural Bridge, the Motte and Fonds Soziokultur.
Nathan Johnston Live Acoustic Set
Nathan is currently recording a couple of new songs at the YeahYeahYeah-Studio Hamburg and we are over the moon to have him with us for a fantastic solo acoustic set. After six years of performing under his stage name with the soul-pop project project "Sion Hill" and touring Europe with artists such as Pete Doherty, A- ha and Alice Merton and playing sold-out shows in Germany and the UK, Johnston began releasing music under his own name in 2022. He is also the singer of Angels of Libra, a ten-piece soul band from Hamburg.
Galli Theatre Hamburg
Tom Seidenfaden, Heidi Hinrichs and Leon Katona deal with the numerous aspects and entanglements of the environment, the economy, politics and everyday life.
Motte Youth Theatre
Under the direction of Nina Ketzler, the young ensemble deals with various issues regarding the social and environmental protest movement as well as climate change.
MOTTE Trash Terminators
Within the framework of a unique project, the children of the MOTTE day-care centre experience and learn about the four elements and the environment. Sustainability and environmental pollution are also central topics to this activity and are presented in pictures, experiments, sculptures and a podcasts during the event. This exhibition present their own experiences and desires trough art.
Live Stream from Wales
In Cooperation with our Welsh partner Head4Arts we show you a short musical live stream of the Community Folk Band. As part of the Earth Hour 2023 and Cultural Bridge, Head4Arts are organizing a colorful program of art and culture to raise awareness of climate change.
For more information please visit the MOTTE website https://www.diemotte.de/de/ our-earth-hour/
or Facebook https://www.facebook.com/events/1393758958044625

Saturday 25th March Our Earth Hour @ Aberfan Scouts Hall & Blaenavon World Heritage Centre
Head4Arts celebrates Earth Hour this year by holding two family friendly events taking place in Blaenavon and Aberfan on Saturday 25th March. In addition, youth groups from Caerphilly and Blaenau Gwent are working with artists to create sculptures inspired by their favourite animals and encouraging an appreciation of nature.
Led by WWF, Earth Hour is the world's largest environmental movement for the planet that is symbolised by millions of people switching their lights off for one hour between 8:30 to 9:30pm.
This year Head4Arts will be focusing Earth Hour activities on native species that are affected by climate change and asking participants to 'make their mark' on the planet by taking positive lifestyle changes that reduce their environmental impact to help protect them.
Head4Arts is thrilled to be able to include a live stream of an Earth Hour event hosted by our partners at Motte, a community arts organisation based in Hamburg as part of the programme in Blaenavon World Heritage Centre. This partnership has been made possible by funding through the Cultural Bridge programme.
In addition, audience members in Blaenavon will be able to experience live lantern lit performances from Louby Lou's Storytelling and Celtic Café. A poem created by pupils from Blaenavon VC Heritage Primary School will be shared at the event and everyone will be invited to make a lantern to take home with them. Refreshments and homemade soup will be available from the café throughout.
Meanwhile at Aberfan Scouts Hall, participants will be invited to make a lantern before taking part in a short nature walk. Using folk tales and song, author Sarah Kilbride, will close the event with some lantern lit storytelling under the night's sky.
Bethan Lewis, Assistant Creative Director, Head4Arts explained that:
"Head4Arts is delighted to be delivering in person events linked to Earth Hour again following a few years break during periods of lockdown. The arts are a fantastic way to engage community members in a discussion about climate change in an imaginative and friendly way. We are especially pleased to be able to link with our German partners in Motte for this event and are looking forward to sharing the evening with them"
For more information please visit the Head4Arts website: http://head4arts.org.uk/earth-hour-2023/