Main image: Joe Fox Photography
Ode to Earth is a collaborative project between DU Dance (NI), Beyond Skin and VILLA Leipzig bringing together different cultural mediums to tackle the complex topic of climate change. Following a successful Phase 1 project in 2022, when young people created a social media campaign around climate change, we were excited to take the next step and delve deeper into the artistic practises with a performance project and two organisational exchanges.
In August 2023, five young artists from Belfast aged 17-24 travelled to Leipzig, Germany for Phase 2 of the Ode to Earth project. Ready to share their skills in dance, circus and music with six young artists from VILLA Leipzig before welcoming them to Belfast. What they encountered was a busy two weeks of creating, discussing, exploring and learning which resulted in a series of 20-minute live performances on the streets of Belfast.
The creative process
"the creative process requires patience as it unfolds and our thoughts become actions" Participant
Starting with a blank canvas on our first day in Leipzig, it was difficult to foresee what performance we would take to the streets on our final day together in Belfast, and it certainly felt like a huge challenge. Not only was everyone bringing different interests and experiences to the table, but the vast and overwhelming topic of climate change loomed over us. With that in mind, the best place to start was with what we knew best; our passions for dance, theatre, circus and music.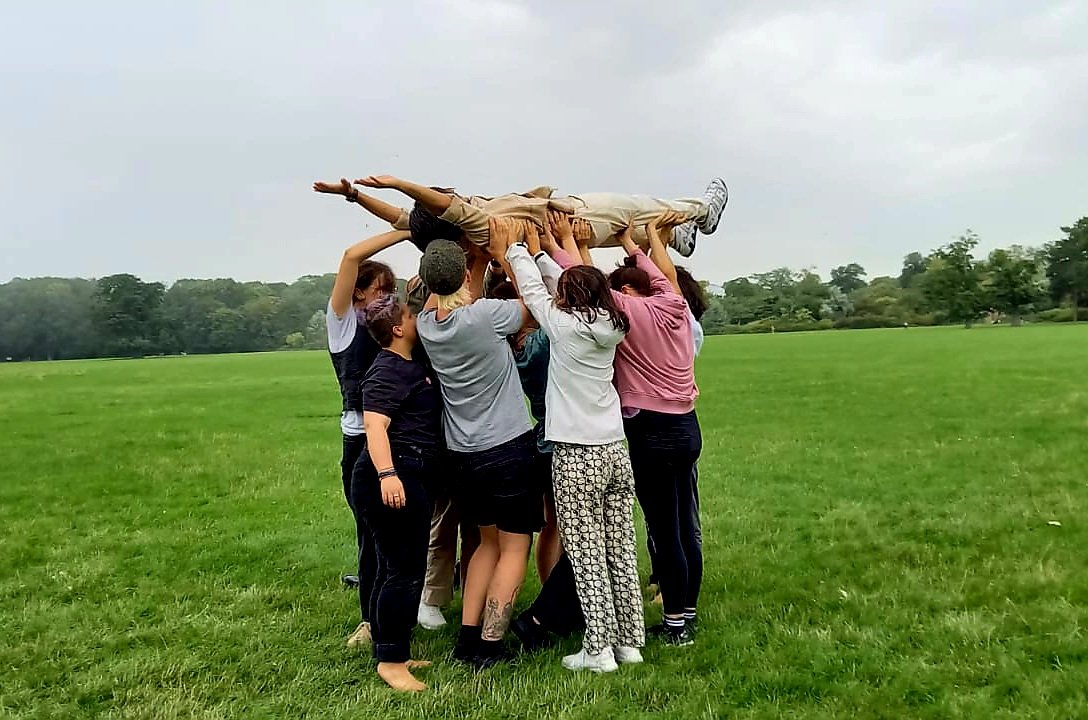 Each organisation brought rich expertise and knowledge to the project, therefore sharing this with one another was the most natural way to begin. A masterclass in dance, circus, music, theatre and social activism happened in the initial days and gave the young people the chance to create together without any expectations of output. This created a strong foundation to start the co-creation process and introduced different methods with which to begin creating ideas from. Whilst the normal concerns and questions arose regularly, such as "what will the end performance look like?", learning to trust the process and see what unfolds was embraced.
What was interesting for the partner organisations, who are typically in the creative driving seat, was learning to hand over control to the young artists. There were many sticking points in the creative process where it would have been easy to step in and steer the way but we all learnt to allow for patience in the process. When the young artists asked "We don't know how this "insert idea" could work?" the answer of "Let's give it a try and see what happens" was given and this became the motto of the week!
Cultural Exchange / Global network
"the experience I valued the most was the opportunity to meet new people I wouldn't normally" Participant
The group bonded quickly in the first few days, united by common interests and a shared goal. Apart from two people in the project, it was everyone's first time travelling to the exchange country so there was plenty of chat about the differences and similarities. Food, weather and cultural expectations were never far from our conversations over a meal, whilst strange words and phrases in German, English and Irish were shared and laughed about. In Leipzig a trip out of the city to a forest regeneration project led by one participant was popular and inspired many to look for opportunities where they too could make an active difference. A traditional currach boat trip on the River Lagan in Belfast cemented the team spirit and proved a great way to take in the city sights, though a swim in the Irish sea was met with a much more mixed response. Friendships were made and plans to travel to visit each other again discussed.

The topic of climate change
"the project helped me feel empowered to make a change" Participant
A revealing moment was the show and tell on our very first day together with a simple request to share an item that demonstrates an aspect of climate change each participant was concerned about or interested in. We had anticipated the group would bring similar items but instead there was a vast diversity of issues and perspectives which created a rich bank of information to pull from. Everything from the threat to forests and our landscape, the media's narrative and bias, fast fashion, species extinction and meat production to name a few. It was clear this was a topic the group had much to say about, and that was exciting.
During workshops around the topic the young artists were competent in having complex conversations and listening to differing opinions and perspectives. Many issues were scrutinised with animated discussions around the different means of protest to the question of "what is progress?". Whilst not every conversation was easily resolved, it demonstrated the job we had to do in delivering a clear and concise message to an audience that would not only encourage them to watch the performance but to take something away from it.
One thing everyone agreed on was the need to have positive and empowering messages of hopes, dreams and aspirations to end the piece with. When so much of the narrative on climate change feels heavy and overwhelming, they wanted to give people hope and inspiration that they too could make an impact and be a significant part of creating change.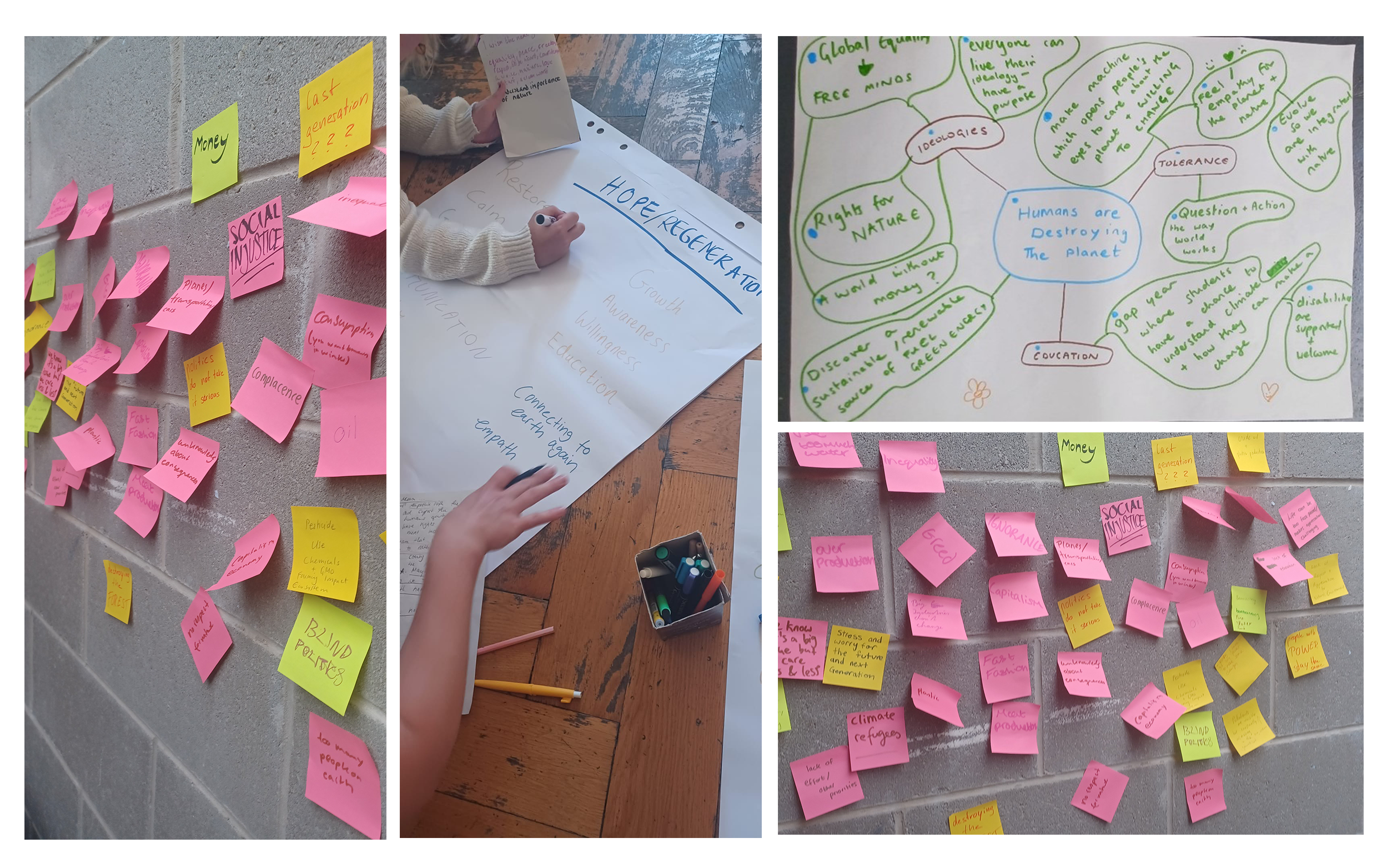 Performance ready
"A powerful performance by the young people, it just shows how art can be such a great way to tackle hard topics." Audience member
By the end of the week in Leipzig we had a first draft of a performance with much more in the bag to take back to Belfast and to explore for the 2nd week. The art forms had given us the opportunity to tackle some very difficult topics in a way that felt pertinent to how young people perceive and respond to the climate crisis.
Performing surrounded by the nature of Rosental Park in Leipzig city centre was a great way to end the week and see our hard work and achievements come together. As well as a small audience who were out enjoying the sunny weather, a few giraffes popped their heads over the trees from the Leipzig Zoo– a significant moment after our conversation of nature, animals and humans clashing and combining.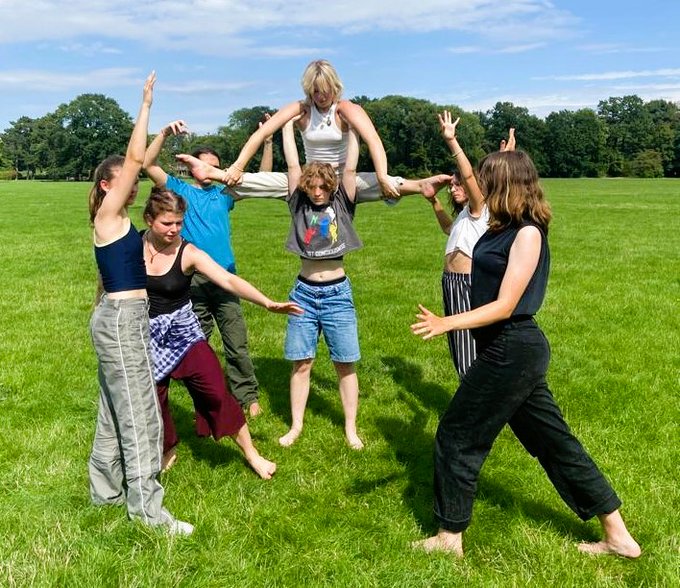 We headed into the 2nd week a little tired but full of ideas and a clear vision of the week ahead. There was a strong sense of urgency not only to finish the performance but to figure out best how we could make an impact on the Belfast people on a topic that felt increasingly more urgent with news of forest fires, floods and record-breaking temperatures. And that we did. Each section was edited and developed, time was given for conversations about how to merge the artforms together to complement each other and evenings were spent painting signs and creating costumes to fit the concept.
By the final day we were ready to tell Belfast what we thought and what we had learnt.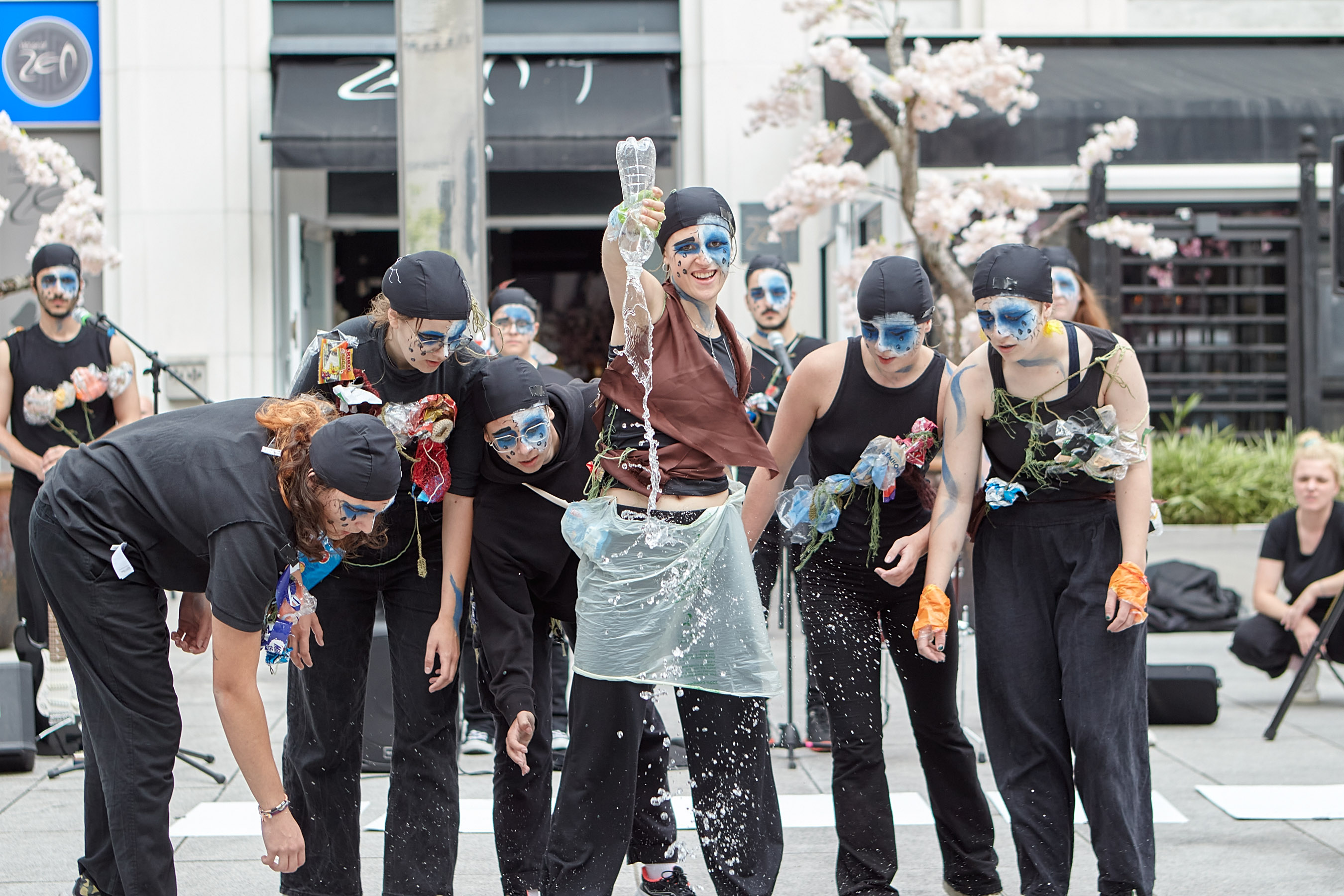 Image: Joe Fox Photography
Reflections
As we celebrated our achievements in Belfast that evening, and before waving off our new friends as they travelled back over land to Leipzig, we reflected on a very busy and intense two weeks. As organisations we learnt the value in trusting each other, especially in those moments when creative opinions differ and pressure mounts. We increasingly appreciated the importance of art as a vehicle for communicating socially and politically engaging topics and the joys of co-creating with a group of passionate young artists. As we head into the final stages of the project which includes two organisational exchanges, we are excited to delve further into what we can learn from each other and how our organisations can be part of a positive social change.
Watch the Ode to Earth project film that captures elements of the final performance and interviews with key individuals and stakeholders: