We are aware that addressing the issue of environmental sustainability is indispensable in the current contexts of climate change, extractivist economic models or excessive consumption-waste social dynamics. In the case of initiatives such as Repair Cafes, Makerspaces, open workshops or Fab Labs, an effort is often made to ensure sustainable practices. Examples include using recycled materials, finding materials from ethical sources and local regions, sharing and exchanging tools, using industrial machines not as a personal business, but for community benefits, among others.
However, during this exchange we learned that sustainability should not be limited to the internal practices of an organization, but that we can think of creative ways to make sustainability a participatory practice that engages with the community. On the last days of our cultural exchange in Munich, we had the opportunity to participate in a weaving workshop, given by artist Doro Seror.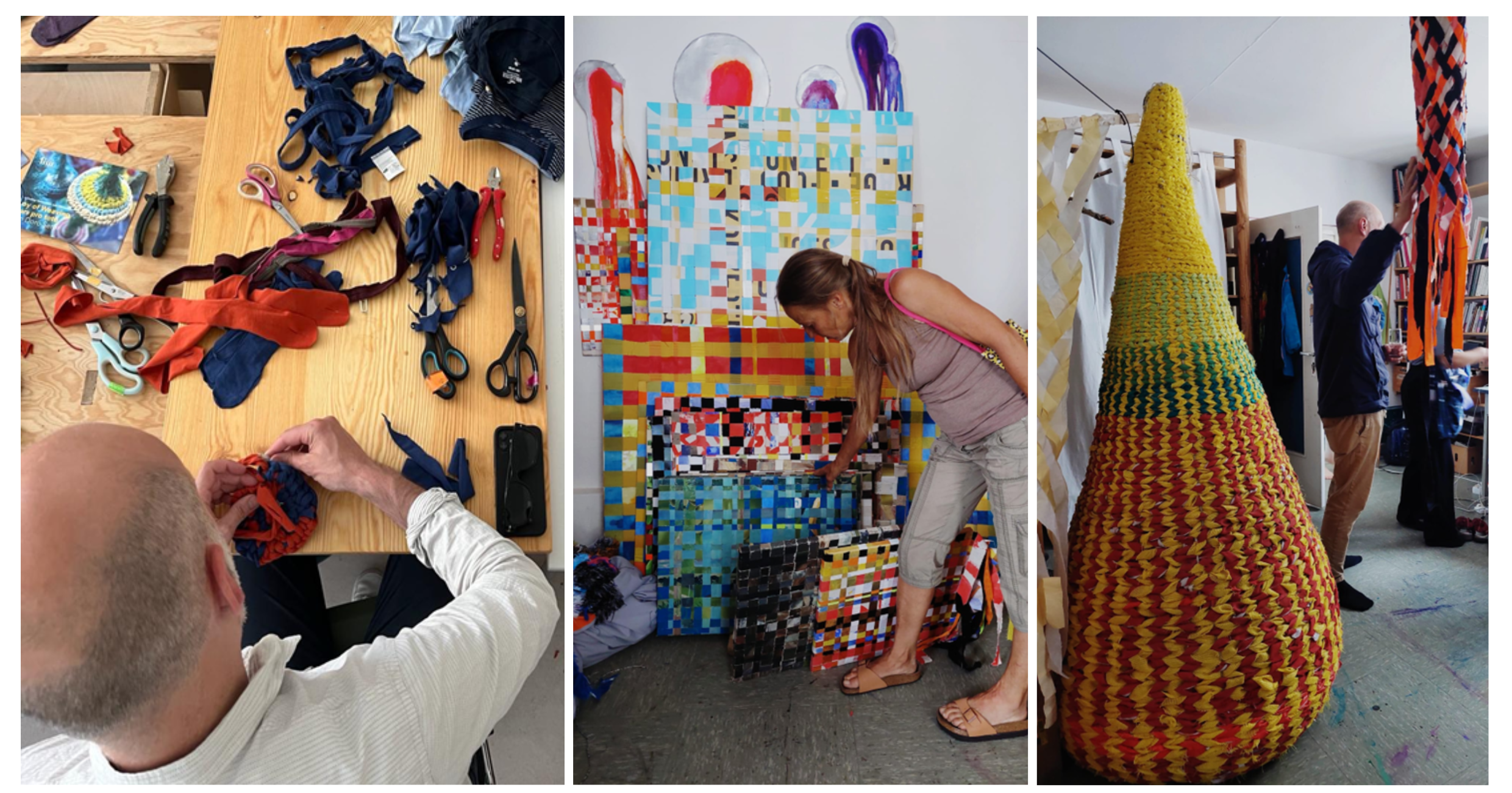 Doro, an artist based in Munich, is dedicated to creating wonderful textile pieces with recycled materials, especially with old clothes. But Doro goes further than just exhibiting her personal creations: she wants to share her art with people so that they can also learn to weave, interact with the materials and see discarded objects as an opportunity to create something of special value. During her experience as an artist, Doro has managed to facilitate workshops where people (especially women) find a therapeutic space, where they can share their experiences, communicate with their body through manual action and express their emotions through creative art.
During this workshop, we learned a new weaving technique, but we also got to meet new people and were able to relieve the stress of everyday life while putting our motor skills into practice. Sustainability (in this case with textile materials) ended up being a fun and relaxing practice that we could all participate in. It was also interesting to see how cooperation among the participants emerged, as they exchanged materials with each other or gave help to people who had difficulty mastering the technique. We understood later that the aim of the workshop was also to weave people together, to connect people who even come from different countries and speak different languages.
Another example is the work of Still Life, a design workshop (based in Glasgow, Scotland) that makes furniture and decor objects, from recycled plastic and locally sourced hardwood. Each of the furniture and decorative pieces are small works of art that offer high quality and durability.

The members of Still Life told us that in the beginning this was a small initiative inspired by the idea of how to reuse the large amounts of plastic discarded every day. But over time and through hard work, the initiative has developed collaborations with other artists, designers and craftspeople. In addition, they shared with us that one of the most rewarding experiences has been the participation of neighbours and young people who have come together to collect plastic, and donate it to the studio for their projects. The moment the community learned about Still Life's work, they had a new motivation to recycle plastic in their homes or collect plastic from the streets. When an organisation is open, communicative and inclusive with the community where it is located, it can bring about significant social change. Participatory sustainability can be a bridge to bring the community together!
This blog post is part of a series of articles that document and explore the themes and activities that have taken place during Bespoke, a Cultural Bridge partnership between Make Works Scotland 'Paved with Gold' (Scotland) and Kulturzentrum LUISE (Germany). Find out more about the partnership.
Related articles:
Diversity matters! Learnings on how to integrate different communities into local projects
The integration of women in the local production and handicraft manufacturing sectors