Co-creating with young voices
A collaboration between Mahogany Opera Group (England) and Frequenz_Festival Kiel (Germany)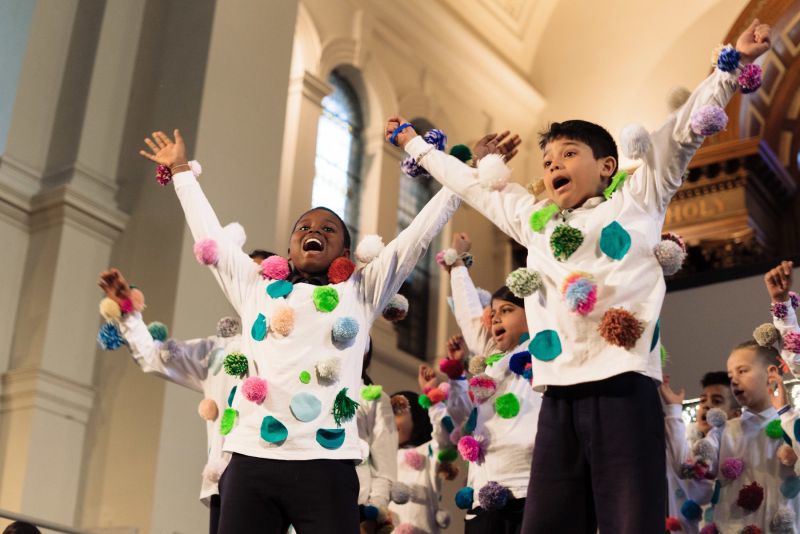 Image: Mahogany Opera's 'The World's Beating Heart' credit Izzy Romilly


"We are delighted to have been awarded funding through the Cultural Bridge programme, which will enable Mahogany Opera and Frequenz_Festival Kiel to collaborate on the development of Mahogany Opera's successful young people's programme Snappy Operas in an international context. We will explore the potential of co-created participatory work with young people, engaging German and British composers in a symposium to be held in Kiel in autumn 2023." Bridget Rennie on behalf of Mahogany Opera Group and Frequenz_Festival Kiel
With a shared commitment to connecting with new and young audiences through the co-creation of high-quality music, the partners plan to come together to interrogate and exchange their approach to working with communities while developing work, expanding both the repertoire and introducing a new approach to making music for and with children.
---
Latest news
In September 2023, the Mahogany Opera Group team will head to Kiel to deliver a 'Snappy Opera' workshop in a primary school with Frequenz_Festival Kiel.
Following this, on 7th October the companies will come back together in Kiel to deliver the "Co-Creation With Young Voices" symposium as part of Frequenz_ Festival 2023. The symposium will invite composers, sound artists and librettists/writers to attend and discuss writing music for children, formats for participatory composing, how to integrate digital approaches when working with young people.
Find out more about the symposium.
---
Mahogany Opera is a leading commissioner and producer of new opera and music theatre. We work across the UK and internationally. Our vision of opera as an inclusive, collaborative, and dynamic artform informs our aim to stretch the boundaries of what opera can be and who it is for. We are committed to developing diverse artists and audiences through three programmes:
Snappy Operas – award-winning participatory young people's programme
Various Stages – R&D programme supporting artists and new ideas
Commissioning innovative work for the stage through partnerships
Follow Mahogany Opera on Facebook, Instagram, Twitter, YouTube, LinkedIn and at mahoganyopera.co.uk
Frequenz_ is an annual festival for contemporary experimental music, performance and audiovisual art held in May each year. Founded in 2019, the festival's accessible formats explicitly address a broad audience with no previous musical education. Frequenz_ consciously sets itself apart from the usual concepts of contemporary music performances and establishes new standards of aesthetic experience – not only in cultural venues, but also in public spaces.
A central component of the festival programme is Frequenz_ EDU: creative, interactive projects which connect the contemporary arts with the topics of young peoples' lives and also socio-political themes such as identity, digitalisation and alienation.
Follow Frequenz_ on Facebook, YouTube and at frequenz-kiel.de