In June 2023, I undertook a 2-day cultural exchange visit to the Motte, a cultural community centre in Hamburg. This was organised part of a Cultural Bridge Tier 1 project, a programme that celebrates bilateral artistic partnerships between the UK and Germany.
Through Cultural Bridge, Head4Arts and the Motte are exploring ways that socially engaged arts practice is delivered within our respective countries, with a particular focus on how the arts can be used to raise awareness of environmental issues within our communities. At the beginning of the programme, we collaborated on an event for Earth Hour which involved live community performances in both countries that were connected via a live stream link.
This process offered an opportunity for our organisations to get to know each other and gain practical experience of working together. However, all dialogue up until this point had taken place online so the cultural exchange visit provided an opportunity to meet in person and gain a better understanding of the Motte and the local area.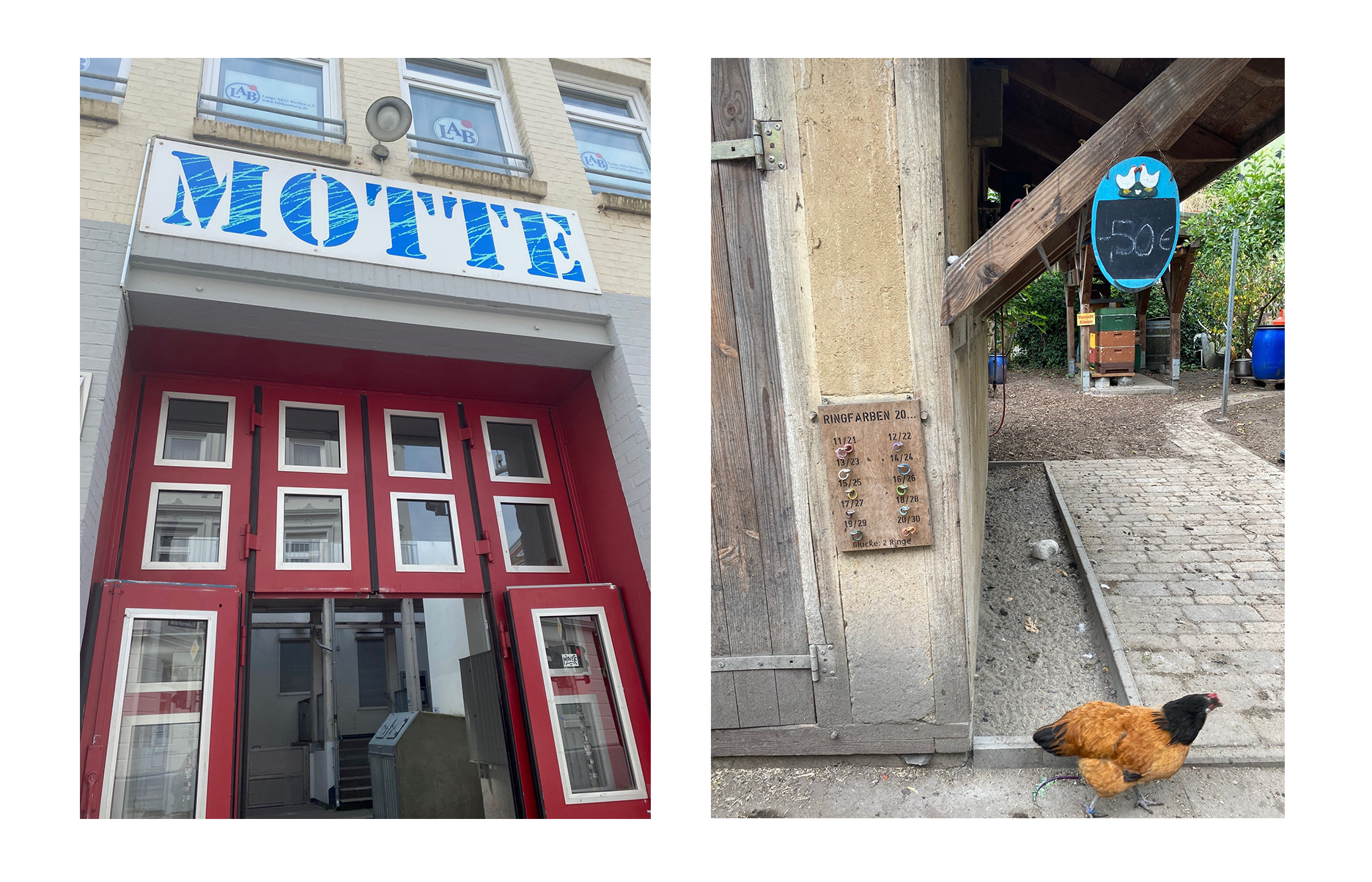 My first day in Hamburg started with a tour of the MOTTE, I was surprised by the size of the venue and the vast array of facilities that were available to the local community, including a performance space, rehearsal rooms, a recording studio, a printing workshop, an arts studio with a kiln, a bicycle repair workshop and a space for young people complete with a chill out area, computer suite and kitchen.
Later in the day I had an opportunity to meet some other members of the staff team. This included a conversation with outgoing CEO Michael who has led the organisation for the past 28 years, a lively discussion with inspirational kindergarten manager Meike and an insightful chat with youth worker and musician Ricardo.
I also visited the MOTTE's outside space which consists of a community garden, chicken enclosure and bee keeping facilities – a fantastic resource in the centre of the bustling city district of Altona.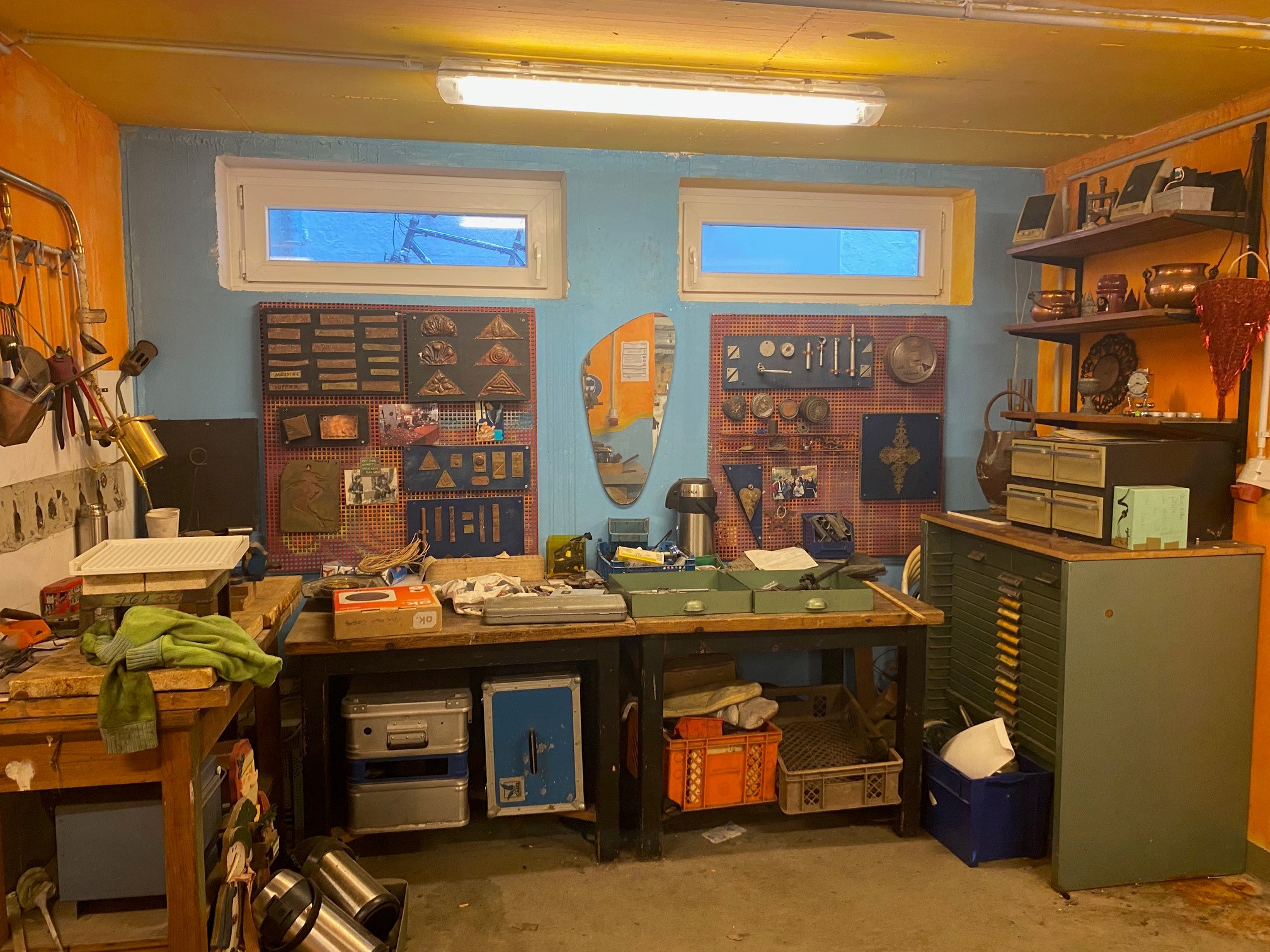 During some free time at the start of my second day, I took a whistle-stop bus tour of Hamburg to see the city's main sights. I enjoyed exploring the industrial origins of the city and learning about its creative roots and the artists it has inspired.
Later, my host, Frank, introduced me to the Hadag ferry which forms part of the city's public transport system, enabling passengers to travel along the river Elbe. We visited Hamburg's city beach, spotting art installations, gigantic container ships and a large international cruise vessel along the way. This part of the trip offered some time for reflection on the programme so far and for discussions around potential areas for further collaboration.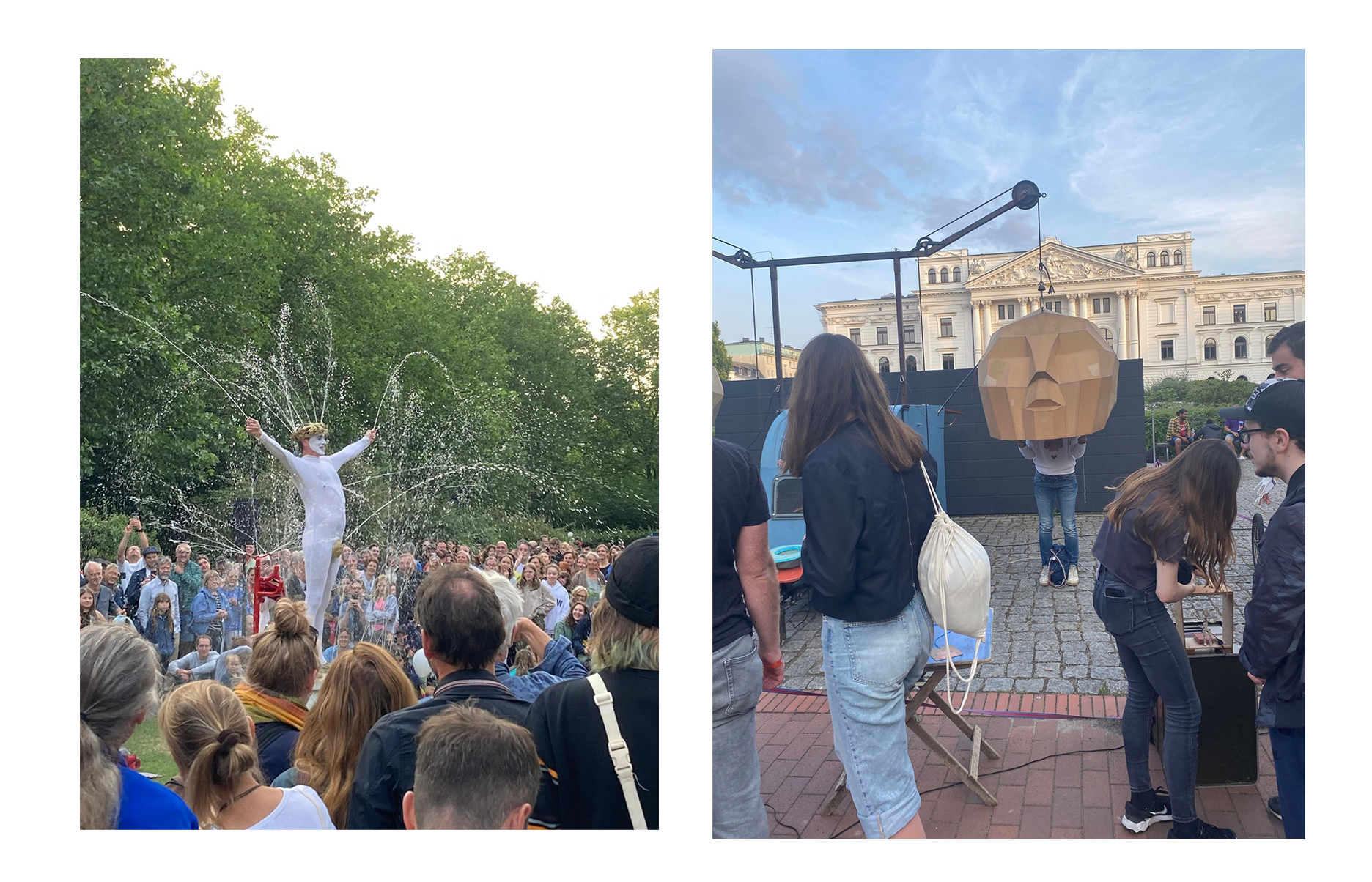 We then headed to The Stamp, a street art festival in the Altona district as part of the Atonale festival. The Rathaus Altona offered the perfect backdrop for the evening's entertainment. The festival was originally established by the team at MOTTE and is still supported by the organisation today. The humorous performances were all free of charge and were being enjoyed by a large audience of all ages, demonstrating how the arts are used in the city to bring people together, remove social barriers and promote a sense of community.
My visit ended with a return to the MOTTE to watch an avant-garde theatre performance by Generationsubergreifende Theatergruppe der Motte directed by Nina Kaetzler. It was great to have an opportunity to see a community arts group in action and to have a chance to see a few of the friendly MOTTE team once more before my visit came to an end.
I am very grateful for the opportunity to take part in this cultural exchange which offered many learning opportunities and a valuable insight into the work of our Cultural Bridge partners. In the coming months, I look forward to welcoming Frank from the Motte to the South East Wales Valleys to continue our creative conversations and explore opportunities to continue our partnership.
Head4Arts
Home - Head4Arts is a community arts organisation which operates in the South East Wales Valleys region, covering the county boroughs of Blaenau Gwent, Caerphilly, Merthyr Tydfil and Torfaen. Head4Arts is a member of the Arts Council of Wales' national Arts Portfolio and is supported by a consortium of partners: Blaenau Gwent County Borough Council, Caerphilly County Borough Council, Well-being@Merthyr, Merthyr Tydfil County Borough Council, Torfaen Leisure Trust.
Motte
Verein für stadtteilbezogene Kultur- und Sozialarbeit e.V. › MOTTE (diemotte.de) The MOTTE eV. Stadtteil & Kulturzentrum is a dynamic and creative art and community centre constantly adapting its activities and goals to reflect the changes in the community and society. Established in 1976 the MOTTE inspired various new models of co-¬‐operations and innovative projects that have led to a better quality of life and neighbourly engagement.
Images © Bethan Lewis