The first stage of engagement took place during four Zoom meetings between April and June 2023. For each meeting we invited a guest artist to talk about their specialism which we feel has potential to work in a parade or installation environment through pre-event workshop engagement, thus enabling us to discuss new ways to engage our communities and our artists.
Artists and community participants from each organisation attended the sessions and engaged in a fully informative 'Ignite' questions and answers inspiration session.
The titles of the conversations have been:
- Community filmmaking for outdoor spaces with guest artist Jack Lockheart of Screen Argyll
- Interactive electronic musical journeys with guest artist Brian Acton of We Are Stems
- Mini-intro to projection mapping" the art of projecting on complex objects. Techniques and best-practices, and a quick overview of some VJ-software with Florian Dobler
- Microcontrollers - programming light and motion sequencing into artworks for artists and community groups with Mick Chestertman of The Makery at Todmorden College of Sustainability and Steve Summers of Noisy Toys
The Zooms have been incredibly informative, sparking new ideas and exciting possibilities for engagement - in place as well as virtually, with the possibility of co-working to create some new artwork together in the future. It has given us the opportunity to explore new relationships as well as exciting ideas and ways forward to a sustainable future working across boundaries., both actual and culturally.
What next?
Our next steps will be in person with exchange visits between Ravensburg and Hebden Bridge - first steps will begin with a masterclass at Kapuziner Kreativzentrum to create a new puppet structure together and to continue all the wonderful conversations from the Zoom's...so watch this space !
Here's a little about the conversations we've been having…
Screen Argyle with filmmaker Jack Lockheart
Written by Lisa Holly, Kapuziner Kreativzentrum
Jack Lockhart is a visual artist and filmmaker who works with video and animation. Working with people to make films, events and deliver educational workshops.
Jack has worked with a wide range of museums and arts organisations and delivered film and animation workshops at the National Media Museum for 8 years, before relocating to Scotland.
Jack showed us an animated film made during the COVID-19 lockdown, in collaboration with Handmade Production's artists and community participants which we feel would be very useful to create with both our organisations in Germany and the UK, enabling us to explore stories and similarities from each of our communities within our cultural heritage
During the lockdown, a storyboard for the film was written in advance, considering how the individual scenes could be artistically 'fed'.
Different groups of society were encouraged to submit artistic contributions to predefined scenes. Among other things, online workshops were offered for individual art projects. Everything from creative animal masks and theatre contributions to collages and three-dimensional paper constructions were on offer. This allowed citizens of all ages to participate in the project.
After the works had been viewed and selected, the difficult part came: putting together as many contributions as possible into one story.
The result was an enchanting and quite extraordinary film! We were thrilled with the result and the variety and diversity of the integrated art contributions.
I was inspired by...
Exploring (forced during the pandemic) a new format for a community arts project gave us a good conversation starter to mentally break away from the form of art presentation we were used to in a Festival of Lights parade. We talked about various other event formats.
What aspects could be used in your organisation's work ?
We exchanged ideas about how much work the coordination of the participations meant and got many ideas about how to motivate as many individuals of the society as possible to participate.
Did you learn anything new?
For us, a key element from the field of film plays an important role here: storytelling. We would like to explore this further in the future and give the story behind (and between) the light figures/characters, a more supporting role at our next event.
What aspects would be useful to work together and how?
We were especially excited about the impact this project had: a sense of community and togetherness across spatial boundaries.
This is exactly what we would like to take with us as food for thought and an idea for our further cooperation with the Handmade Company. Maybe a film would be a nice way to tell a story across nations and organisations and unite our artistic work into a completely new story.
We Are Stems with musician Brian Acton
Written by Lisa Holly, Kapuziner Kreativzentrum
Brian Acton is a musician based in the UK. He loves learning new things – so every year he sets his sights on a new skill to learn. Some of these new experiences produce exciting projects.
We Are Stems is one of them: a multi-source sound system that gives outdoor arts (like parades etc) a whole new way to play music. For Handmade Productions for example he created a soundscape of forest sounds and synths, followed by a gently lolloping lo-fi groove. The participants returned, aglow from the parade.
The special feature of this newly conceived sound system is that the sound is composed of several mobile speakers. The very powerful speakers can be worn on the body similar to a backpack. The sound changes depending on how the participants move towards or away from each other. It would be very exciting for us if we could work with the speakers.
I was inspired by …
The idea of making music interactive and dependent on people!
What aspects could be used in your organisation's work?
This topic appealed to us very much, as we ourselves were already looking for ways to provide musical accompaniment to our parade. At our last parade, we played atmospheric sounds through mobile speakers placed near the light figures. Unfortunately, the range of the speakers was too short and the fondly created tracks got lost in the crowd.
We find Brian's idea particularly exciting that a sound carpet could be played via the viewers' cell phones. Together we continued to develop this idea in various directions. For example, viewers of the parade could play music via a live stream.
We really like the resulting interaction between the spectators and the artistic performance of the parade!
Did you learn anything new?
We talked about different possibilities that this method would open up for us, but also about technical requirements and possible difficulties in realising such a project.
What aspects would be useful to work together and how?
It would be amazing to deliver workshops with both our communities, to create a soundscape we can both play at our events with the input and voices of our communities, to create a feeling of belonging, connectedness and place.
Mini-intro to projection mapping with Florian Dobler
Written by Sue Walpole, Handmade Productions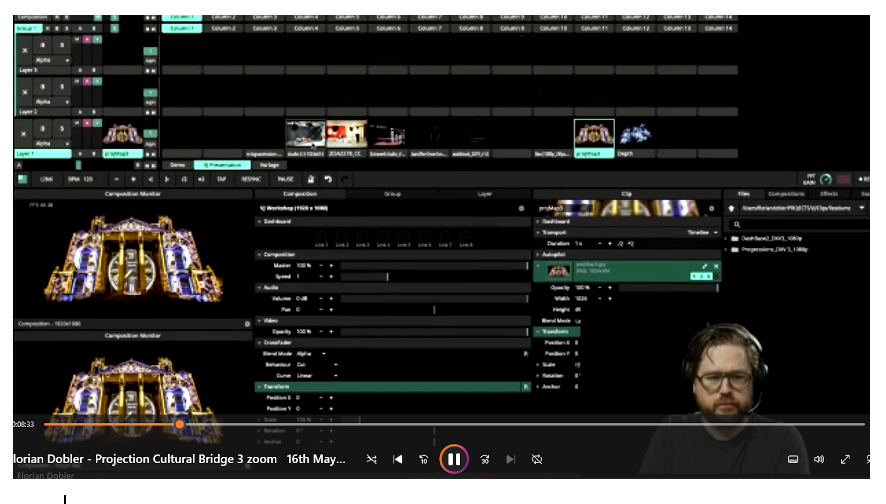 Florian is a video artist with a small studio in Ravensburg creating motion video productions for corporate, music videos and talking heads. Florian shared some of his music projects with live visuals, analog music synthesis where music is created from wave form. He presented a projection example where a gauze screen is placed in front of the performance, creating a layered visual effect.
Florian moved onto video mapping, showing examples from project 'The Intersection' - with technical live mapping onto moving boards moved by in this case by robots, and projection onto architecture and prepared 3D shapes.
Florian prefers the software Resolume as do many mappers. He showed us briefly how to create movement, create layers and build up ideas. He then demonstrated to us how he can map onto the 3D shapes.
We went on to discuss the equipment needed considering brightness, power needed and the more pixels used the better the quality.
I was inspired by…
The effects that can be used, bearing in mind how we could create images and video with community participants which would give an incredible impact. Also how simple effects can be created easily to give a dramatic difference in atmosphere to a parade or installation.
What aspects could be used in your organisation's work?
A story being told via projection / in addition and support of the parade story or theme - via one spot or different places with projectors set up.
A lantern artwork with projection from within.
Sound with animation vibration/livestream to effect installations. The two main interests are for static projection onto buildings and projection within artworks.
Did you learn anything new?
Lots of new learning - fascinating to understand how simple effects can be created, for example how each participant could create work for a square which can then be put simply together for projection mapping.
What aspects would be useful to work together and how?
Really exciting to understand how we could work remotely and in place to create a joint piece of artwork to be presented at our events while skilling up members of our communities.
Microcontrollers with Mick Chestertman and Steve Summers

-

written by Sue Walpole - Handmade Productions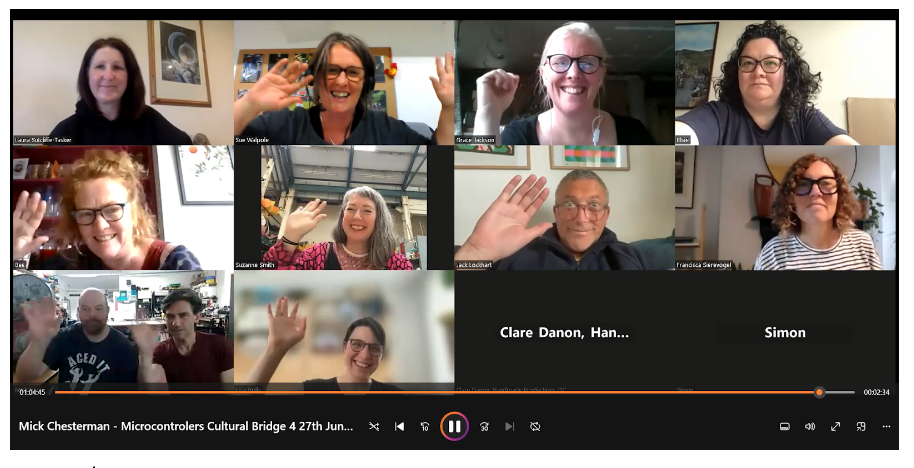 The Makery in Todmorden started out as The Scavenger Labs and The Unmaking Movement, where E- waste can be used to make new things as well as taking things apart and learning how components work. Steve now runs Noisy Toys using electronic parts for experiments and sound workshops. Mick has a background with 'Take to the Streets' movement and now teaches electronics at university.
Mick and Steve showed many examples of how easily Microcontrollers can be used with addressable LED coloured strips, motion sensors and speakers to create color changes, flashes and sequences.
I was inspired by…
Building and reusing electronic components and education around E-waste.
What aspect could be used in your organisation?
We were very excited by the idea of workshop participants or select groups creating a piece of work to be in a parade or an installation themselves. The techniques could be used by artists for bigger artworks highlighting movement and features.
We loved the idea that an installation could be interacted with by the audience with the use of motion, light or sound sensors.
Did you learn anything new?
We explored ways of using puppets and performance to trigger sounds and lighting - for example stomping feet of an animal puppet, waving its arms, nodding head etc. We explored the choreography of movement using lights
What aspects would be useful to work together and how?
We explored how this process would be a fabulous alternative to workshops that could be delivered virtually to deliver similar projects each exploring our themes, potentially creating masks, puppets with exciting sequences.