It was early October 2022 when the Traditional Dance Forum of Scotland (TDFS) embarked on an initial research about German folk dance culture in the hope of discovering and connecting with a vibrant and dancing German diaspora in Scotland. We reached out to the Goethe-Institut Glasgow, who have a mandate to encourage German-Scottish cultural exchange. Although we couldn't quite locate a German folk dance group in Scotland, together we identified the Folk Dance Society of Germany (Deutsche Gesellschaft für Volkstanz e.V., DGV) as our counterpart organisation and soon after, we had our first online meeting.
A year later, we meet in the same Zoom room on an autumnal October evening to reflect on the 12 months of working together and building bridges across the trad dance scenes in Germany and Scotland. What a year it has been! The highlights for both of our organisations – the in-person meetings through April in Edinburgh, Scotland and July in Gotha, Germany. This, however, couldn't have happened if we hadn't kept the doors of our Zoom room open for the ongoing construction work on our Cultural Bridge bearing the symbolic name Strictly Scottish and Schottisch*.
A rewind to 27 April 2023 when three representatives of DGV, Mario Hecker, Arwed Bettner and Angelika Gothe (far left below) landed in Edinburgh and joined us at our TDFS home – the Scottish Storytelling Centre for our first in-person meeting over freshly-mixed pomegranate cocktails ahead of Pomegranates – our springtime festival sowing the seeds of international trad dance across Scotland.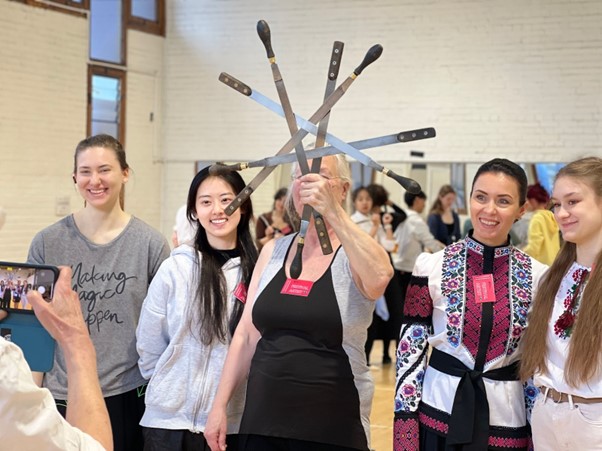 The three days of the festival packed with world dance masterclasses, new trad dance productions on stage and screen and even a participatory Scottish ceilidh dance featuring guest dance musicians from Finland, Denmark and Scotland lay the groundwork for our fledgling partnership. It couldn't be more appropriate to immerse our special DGV guests on arrival in all things trad dance from across the world in Scotland.
Read more: Five-star Review of Pomegranates 2023: https://www.tdfs.org/news-post/newsid/24867-pomegranates-workshops-and-promenade/
Remarkably, in these days of border restrictions and uncertainty we danced our way from the Congo to Costa Rica, Egypt to Ukraine without hardly flying anyone across to teach or participate at the festival. Apart from a handful of creatives, including Mario, Arwed, Angelika and Gabriel Schmitz – our German-born Barcelona-based graffiti artist-in-residence at the festival. Of all the 74 creatives featured in Pomegranates, 67 were based in Scotland, often representing the first or second generation of cultural emigres keeping the flame of their folk dance and music alive in Scotland.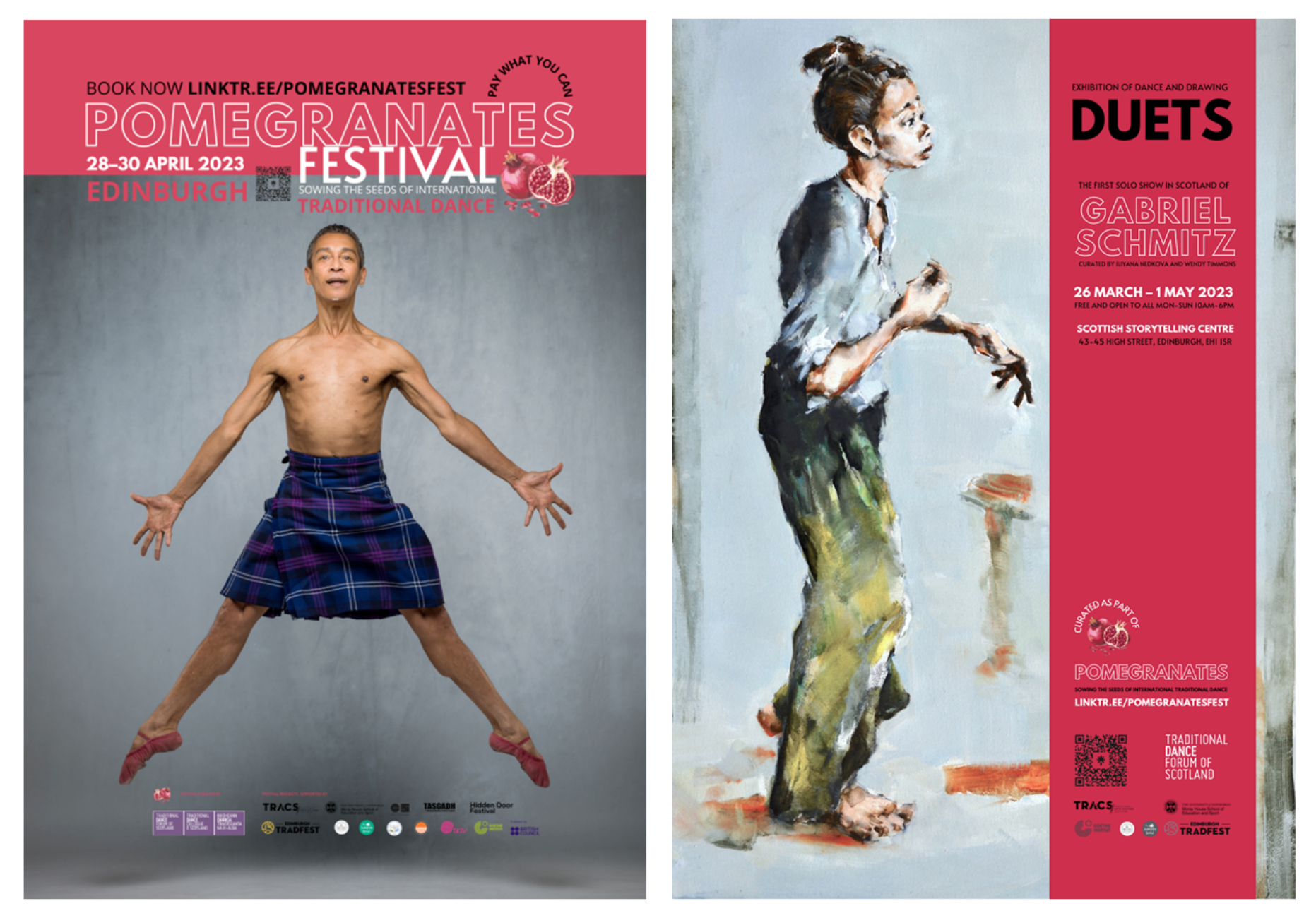 Watch Our evolving Pomegranates Festival 2023 YouTube Playlist here: https://www.youtube.com/playlist?list=PLnNDne0E3HrDhMPwwKbHr0WlnVilHIID6
Amongst all the hectic festival activities, we even managed to fit in an exploratory visit to the Centre of Research Collections at the University of Edinburgh where the curators treated us to a preview of artifacts, including dance masters' rare books and archival footage evidencing that the link between the lands of Scottish and Schottisch dances goes a long way back. A short but fruitful visit that planted the (pomegranate) seeds of our partnership's future return to the archival findings from this academic collection.
In July 2023 we escaped the wettest summer on record in Scotland for a few days and joined our DGV friends in the Thuringen forest town of Gotha to celebrate Europeade – the 58th annual pan-European nomadic festival of trad dance and music, during the hottest heat wave ravaging the continent. These extreme weather conditions made it ever so impressive to witness how over 4,000 performers, including our friends Arwed Bettner and Angelika Gothe, from across Europe (except Scotland), all fully clad, often in woolly trad dance costumes and elaborate headdresses, took over the open-air stages, streets and stadium in the city.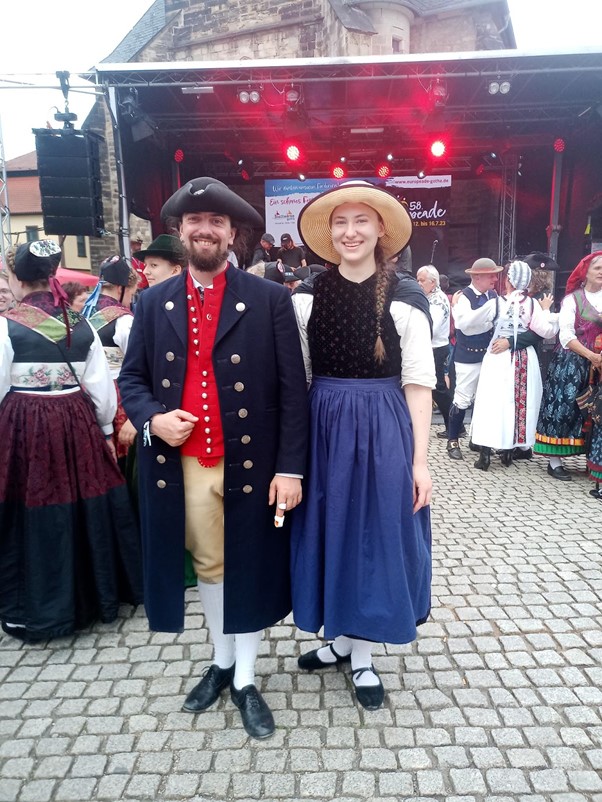 As the only TDFS representatives at Europeade, we, Wendy Timmons and Ilyana Nedkova, were also guests of honour at the DGV board meeting which was cunningly planned to coincide with this biggest folk festival to be hosted in Germany in 10 years and for a second time in Gotha. We met on the University of Gotha campus overlooking the main festival square and gained direct, invaluable insight into the 70 years of DGV activities. In return, we presented how TDFS had worked since its inception over the last 10 years.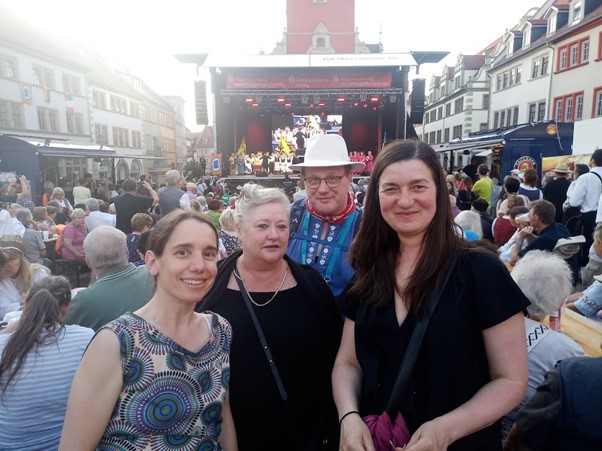 Another partnership-building highlight in Gotha showing how cultural bridges are being constructed amongst all the dances and parades, was the DGV and TDFS joint meeting with the President of the International Europeade Committee Rüdiger Heß (pictured below in the centre) while planning how together we can enable the first-ever Europeade tour to the UK in 2025.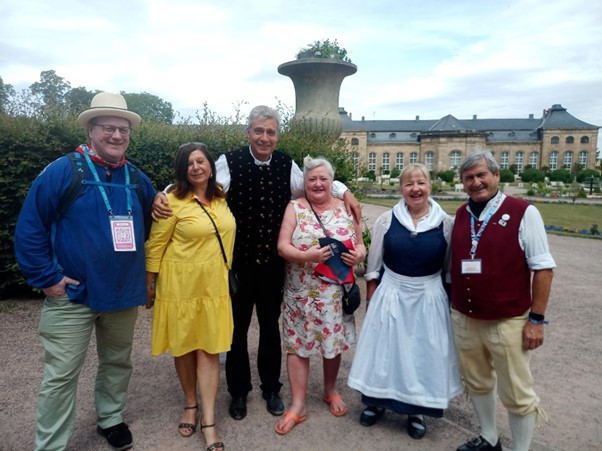 Watch Europeade 2023 official documentary here: https://www.youtube.com/watch?v=apYHXcWvPKg
Johanna Ella, one of our DGV partners and a recent member of DGV Board whom we finally met in-person in Gotha sums it up:
"In the face-to-face meetings, we learned about and experienced the similarities and differences between the two partner organisations. We have so much in common. We are member-led organisations in which individuals and groups are networked and their needs and concerns represented. We promote folk dance and traditional dance. We both advocate for the safeguarding and recognition of traditional dance as part of our global intangible cultural heritage."
"As dispersed, decentralised networks operating across our respective countries, we also differ fundamentally: the goal of the DGV is, among other things, the preservation of German folk dance as an old cultural asset, and accordingly most of our members are German folk dance groups. TDFS, on the other hand, aims to promote traditional dance from a wide variety of cultures based in Scotland that maintain their traditions. This is reflected, for example, in the Pomegranates festival programme, which is wonderfully colourful and diverse, weaving traditional dance with contemporary influences from across the world."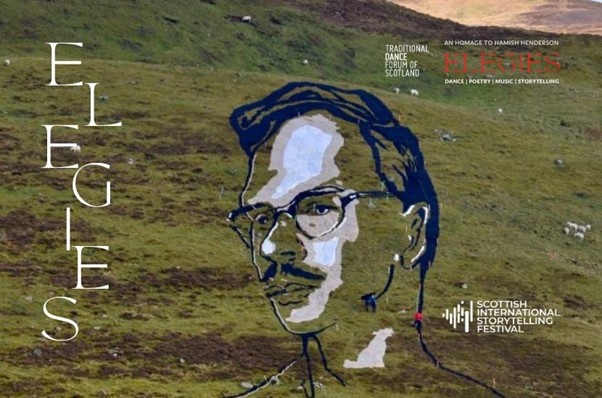 Neither DGV nor TDFS, however anticipated that the first year of our partnership-building would culminate in the shared learning, as well as the joint research and development of a new bilingual production entitled Elegies – the first dance adaptation for the screen and stage of Hamish Henderson's series of poems Elegies for the Dead in Cyrenaica, specifically curated to premiere at Edinburgh's Scottish Storytelling Centre on 11 November 2023 marking at least four anniversaries – the 70th anniversary of the establishment of DGV; the 75th anniversary of the poems first publication; the 75th anniversary of the United Nations Universal Declaration of Human Rights and the author's 104th birthday.
The Elegies for the Dead in Cyrenaica are considered by many as the finest poetic writings to come out of the Second World War. They highlight the tragic chaos and waste of life without losing sight of our humanity. Our joint ambition is for this new adaptation of the Elegies for the Dead in Cyrenaica to become an innovative dance celebration of German-speaking Hamish Henderson (1919-2002), soldier-poet and scholar-folk revivalist, but also a dance poem of serious reflection – a lament for all lives lost in our challenging world of wars and pandemics, political and economic oppression, ecocide and inequality.
Both DGV and TDFS feel obliged to preserve the knowledge and skills associated with trad dance and music entrusted to us, pass it on and develop it further. We believe that traditional dance is a cultural bridge – a contemporary socially-engaged creative practice with a lust for life and peace that brings us together.
---
Folk Dance Society of Germany: When the Working Group for Dance in Germany (Arbeitskreis für Tanz im Bundesgebiet) was founded in 1953, the Folk Dance Group (Fachgruppe Volkstanz) was part of it from the beginning, from which the Folk Dance Society of Germany (Deutsche Gesellschaft für Volkstanz – DGV) emerged as an independent association in 1971. From the 1980s onwards, it organised national and international folk dance meetings, symposia and dance leader training, strengthened contacts within Europe, USA, and Brazil and offered trips to international festivals. The folk dance movement in its regional forms in Germany (Volkstanzbewegung in ihren regionalen Ausprägungen in Deutschland) was entered in the UNESCO Register of Intangible Cultural Heritage in Germany in 2015. Find out more at volkstanz.de and wir-tanzen.net.
Traditional Dance Forum of Scotland: Established in 2014, Traditional Dance Forum of Scotland is a members-led charitable organisation, dedicated to the advancement of all forms of traditional dance in Scotland. Our mission is to advocate for traditional dance and intangible cultural heritage by promoting social dance forms in Scotland and get more people dancing. We curate residencies, mentorship programmes, micro grants, commissions, awards, workshops, publications and films, including Pomegranates – our annual international traditional dance festival. We are one of the three founding forums of Traditional Arts and Culture Scotland – a common platform and collective voice for traditional arts in a contemporary world across the country. Find out more at tdfs.org
*Schottisch: a Scottish country dance at least in name, also known as Eccossaise in France where it originated in the late 18th Century – is considered a folk dance in Germany. To this date Schottisch, also known as Ecossaisen-Walzer and Schottisch-Walzer, is still danced all over Germany and Europe. It was popular in the ballrooms across the world during Queen Victoria's reign as part of a folk-dance craze before polka took its place. In Germany, the intangible cultural heritage of Schottisch – this partnered country dance, more of a cross between a slower polka and a Scottish Highland old reel – is kept alive and passed on to new generations of dancers to develop it further.